Neue is embarking on a completely new and exciting form of content called "What's Neue from 9 to 5". In this segment, 9 questions would be about people's opinion on general and everyday things, while the last 5 questions would be fairly chill and more tongue in cheek.
Speaking to Neue this week was Mauzira. She has been described as bubbly, bossy and friendly. As an extrovert, she has been adopting multiple introverts all across Brunei. Soon, the world. She is usually labelled as a the "mom" of the group – some have even called her "Mau-my".
The Tough 9'ers:
1. Who had the biggest impact on the person you have become?
My sisters. I have 3 older sisters: Maudena, Mauriza and Maurina. Each sister inspires different aspects of my life. From being wise to being fabulous, I am always thankful for them. Despite annoying each other for almost my whole life.
2. Tell me 3 things that happened in the last week that you're thankful for.
Last week, we had a BBQ night at my boyfriend's bestie's place (what?), and we Karaoke-ed until 1am. I am always thankful for any chance I get with a karaoke session!
Second would be the fact that Hua Ho Department Store in Tanjong Bunut now has a new snack station with takoyakis, obanyakis and also, sausage waffles! Eaten with a generous drizzle of mustard and ketchup.
Lastly, I am most thankful for all the little and simple things I know that sparked joy in me in the last week, despite not exactly remembering each one. Teehee!
3. What are the 3 most important things on your bucket list?
i. Perform and sing in front of a live audience!
ii. Retire early and sell vegan kimchi!
iii. Go to a BLACKPINK / Beyonce / Taylor Swift concert!
4. Would you rather have an extra $200 a day, or an extra 2 hours a day? And what would you do with the extra money/time?
I would have an extra $200 a day because I would constantly have money to spare if I should donate or buy food for strays like that.
5. What do you think about reality TV? Why is it so popular?
Cause it's relatable yet stupid in the most irrational way. Hence, an easy amusement for most people. I personally avoid them.
6. Would you eat at a restaurant that was really dirty if the food was amazing?
No. I already have IRS and very much lactose intolerant, so I'll pass.
7. Is it better to live where there are 4 seasons or where 1 season takes up most of the year?
I am a summer girl, and with one season my wardrobe is already bursting at the seams. I am meant to be in Brunei!
8. What's the best way to see if the person you're talking to is a "good" or "bad" person?
If it's the first time I've ever met them, then it's unfair to easily decide. Otherwise, I would just let them talk and listen to what they talk about. I may not exactly label them good or bad, just how much we connect as humans will reveal how I enjoy their company or not.
9. Do movies have the same power as books to change the world?
Yes. Of course, it's only another medium or channel for people to express themselves.
The Easy 5'ers:
1. Do you have a hidden talent? Like being able to mimic a cartoon character's voice?
I can make flowers out of any recyclable materials. I self taught myself and opened a business called Bloommaterials.
2. Think about the time you fell in love. What sound is in your head. Now think about a scenario u are about to get into a fight, what's that song?
Love: I don't know the name of the song, but basically the soundtrack from 'Pride & Prejudice' when Elizabeth saw Mr Darcy appeared from the horizon walking towards her (see clip above).
Fight: Ignorance by Paramore (see clip above).
3. If magic was real, what spell would you try to learn first?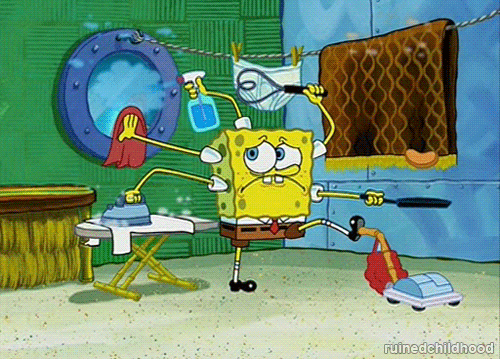 The magic to do chores.
4. If you could ask 2 questions (1 serious and 1 quirky) to the next #Neue9to5 interviewee, what would they be?
i. What is your go-to song during a traffic jam?
ii. How do you handle self-doubt?
5. If your life was a meal, what would kind of meal would it be?
Nasi Kerabu with lamb. Cause it's colourful and flavourful, yet homey at the same time.
See You In The Next #Neue9to5
Be sure to tag your friends in the comments sections in Facebook or Instagram if you'd like them to be featured in the next "9 to 5: What's Neue With …" article.