View this post on Instagram

Dwayne 'The Rock' Johnson (pictured above with hair, pictured below with no hair) and Jason Statham. What do they all have in common?
View this post on Instagram
Yes! They are successful actors. But that's not the only thing – they have also fully embraced their baldness!
This supports a study that claims that bald men are leading the way in the laws of attraction.
Researchers at The University of Pennsylvania asked groups of male and female students to rate photographs of men according to attractiveness, confidence and dominance – and the baldies trumped in all three categories.
The prevailing theory though, was that sporting a shaved scalps was associated with dominance. Participants consistently rated naturally bald men, and even men whose hair had been digitally shaved off, as being more dominant and stronger than those with thick or thinning hair.
"Choosing to dispense with one's hair is arguably a form of nonverbal behaviour, a form of expression which communicates information about the self otherwise difficult to observe," the report says.
The study also concluded that perceiving bald men as more dominant means they "will fare better economically in negotiations".
Bald Men Seen As Dominant Leaders
According to The Independent, a data scientist for the US government, Albert Mannes suggested that there is something powerful about having a shaved head.
According to him, the shaved-and-dominant link comes from cultural associations, in the same way that being tall and having a deep voice each signal dominance.
"In US society … shaved heads are often found on men in traditionally masculine professions," he writes, "so dominance may emerge through stereotypical associations with these figures."
When guys decide to shave off their hair, they're tapping into a cultural history of close-cropped dominance, from Michael Jordan imposing his will on the basketball court to Bruce Willis saving the day on the silver screen.
It's interesting to note that Mannes was inspired to do the research when people were more deferential to him AFTER he shaved his head.
Another Celeb Joins No Hair Club
In a recent post on Instagram (see photo below), John Travolta posed for a selfie with his daughter, Elle Bleu, and a light bulb reflecting off his freshly shaved dome.
View this post on Instagram
Dressed all in black, Travolta channelled a bald James Bond himself.
This is the very same actor who was known for his hair-do in the 1978 classic, "Grease" (see photo below), which is the most successful movie musical of all time.
Fortunately, the online reactions proved overwhelmingly positive, with fans cheering the fresh look along with the stubble beard.
But Dating's Tough In Singapore
If you're now considering shaving your head over the weekend, I'd strongly suggest you to do it at a saloon (if you're shaving your head for the first time).
But if you're still in the dating game in this part of the world, be warned that Singaporean women are a picky bunch – two-thirds of the country's women won't date a bald man.
The results came from a local dating app called Paktor, which surveyed its 2,845 users, according to a report published in the New York Post. Those polled were between ages 18 and 50, and were equal parts men and women.
The highest turn-offs for male users were listed as materialism, holding a partner to high expectations, and wearing too much make-up.
Female users snubbed balding partners, and one third of women said they wouldn't date a member of another race.
Most guys said they were cool with dating a gal who made more money, but only 48% of ladies said they would tolerate someone who earned less.
Tag A Bald Friend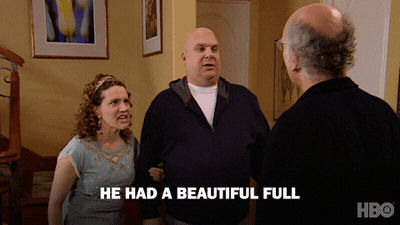 I'll end this story here with some wise words from Larry David, the co-creator of TV sitcom 'Seinfeld' and creator of the HBO comedy show, 'Curb Your Enthusiasm', who said: "Anyone can be confident with a full head of hair. But a confident bald man – there's your diamond in the rough."
Do you know a balding (or bald) friend? Why not brighten their day by sharing this story?