Welcome to another edition of "What's Neue from 9 to 5". In this segment, 9 questions would be about people's opinion on general and everyday things, while the last 5 questions would be fairly chill and more tongue in cheek.
We here at Neue believe that every person out there has a story to tell.
This week, we find out What's Neue with Karen Lee of Venturing Foodie.
"My Instagram account is about travel and food. Okay! Let's be honest here: it's MOSTLY about food!" Karen said cheekily.
The Bachelor of Arts (BA) graduate in English Literature and Drama from the University of East Anglia in Norwich, UK, has been described by her friends as "adventurous".
"I like to try, learn and experience new things in life," she said, adding that at the end of the day, it's all about making the most out of life.
When asked why she enjoys challenging herself and doing things out of her comfort zone, Karen said: "It's because I firmly believe that once you've done whatever you were initially afraid of, that 'fear' diminishes and that'll be another achievement you can put under your belt."
Karen's also a lover of the arts. She enjoys watching theatre as well as being part of performances.
"I'm loving how the creative industry here in Brunei is blossoming too! #JustBruneians," she said.
Let's see how she responds to this week's #Neue9to5 questions.
The Tough 9'ers:
1. Everyone has a story. What's yours?
Oh dear! I mean … that's a lot! That's like a Harry Potter movie marathon! Are you sure you wanna sit through that? Haha! I jest!
(*Editor's note: Did you know that if you played the Harry Potter movies without stopping, it would take 19 hours and 39 minutes. However, factoring in breaks, the time it takes to change the movies, and any technical difficulties you might have, a full Harry Potter Marathon could take over 20 hours!)
When I was younger, I had dreamt of one day becoming a veejay for MTV or a news anchor / journalist.
Even though I did not pursue them, somehow with my 'Venturing Foodie' Instagram account, I found myself doing some citizen journalism.
Being a foodie was something that came naturally to me. This is especially so in Brunei, where the "eating culture" is huge!
My dad is the person who instilled in me the love for food! Haha! So as far as I'm concerned, he's the OG Venturing Foodie!
Did you know that he'd have 5 meals a day? He'd also take me out for suppers!
I'd like to think that documenting whatever I eat on IG came naturally.
After all, with the rise of social media, it soon became the norm to snap photos of whatever it was that you eat.
I guess you could say the camera eats first! Haha!
Reading and writing was something that I have always had an interest in.
In fact, I'd written some fanfiction during my teenage years. (Shh! Well, I guess the cat's out of the bag!) Haha!
So I guess you could say that it was a natural progression for me to write about food 🙂
2. What inspired you to setup the IG account 'Venturing Foodie'? Can you tell us a little bit about the first ever food that you featured? 
Haha! I actually had to scroll all the way down to my very first post on my IG account.
I went all the way back to March 2, 2015. (Yes! It's been that long!) Mind you, at the time of this interview, the number of posts stood at 1,052! #EffortMade
To be honest, it started off as a fun pastime. (Nothing serious!)
And the premise was very simple: I was studying overseas and doing quite a bit of travelling during my time there and I wanted to remember all the different types of food I ate and where I ate it. You know since Instagram has the location tag and all. It was more like a little food archive.
I remember not telling anyone about this IG account because it was my little secret.
But I did, eventually, share it with some of my close friends. After all, I had to justify making them wait as I happily snapped photos of my food, y'know! Haha!
Back then, I thought that it would be embarrassing if people knew that I had this IG account focussed primarily on food. This was why I didn't announce it publicly back then.
I had always been interested in writing. In fact, I once took a module in journalism back in uni.
In the first seminar, the lecturer asked for examples of journalism.
While some students gave answers like "newspaper articles", "online news", etc … I, on the other hand, answered "food reviewing or blogging".
So you could say that "Venturing Foodie" was sort of my little play IG.
I didn't take it too seriously. I'd post a photo and leave a comment here and there.
I wanted it to be about travel and food. You know, that 'jalan jalan cari makan' sorta vibe. (Does anyone out there remember that show from TV3? Haha!)
I was super proud of myself when I came up with the name "Venturing Foodie". Why, you ask? Because I felt that it encompassed what I wanted the account to be, which was travel and food.
Whenever I I travel I would immerse myself into the country's culture and experience. For me, food is an integral part of that experience. After all, food can speak volumes about people's culture and history i.e. their unique cooking methods and ingredients used.
I only started taking this food blogging seriously after I came back to Brunei for good.
I saw the potential it had back in January 2018.
Initially, I wasn't planning on reviewing food but rather just making it informative for people outside of Brunei.
But since I wasn't travelling as much as before, my IG account became more about casual reviewing of food I've eaten.
I wanted 'Venturing Foodie' to be relatable. In fact, anyone can be a Venturing Foodie 🙂
All you have to do is just go out and cari makan. Haha!
Oh, right! The first-ever food featured on my IG was a strawberry and raspberry (no bake) cheesecake. I captioned it as "Absolutely decadent!" … It's probably because I was influenced by all those British baking videos I watched on YouTube. Haha!
The cheesecake was from a restaurant in Norwich (where I studied) called 'The Mulberry'.
I fondly recall being wowed by it. This was probably what spurred my obsession with no bake cheesecakes! (I still do prefer it over baked cheesecakes … although I think burnt cheesecakes are slowly creeping into that space! Haha!)
3. What are you thoughts on people who are "glued" to their mobile phones?
Ouch! Was that a direct critique of modern society in the 21st century digital world? 😉
I think nowadays it's so easy for people to be caught up in the digital world considering so much of what we do, see and hear is so easily accessible by phone. 
I definitely have fallen trap to this globalised phenomenon!
I think it's easy to villanify people who are "glued to their mobile phones" and I do agree it is an unhealthy behaviour but at the same time, it also depends on the circumstances.
I have this one friend who's in a LDR (Long Distance Relationship, for those who are unfamiliar with the term).  She'd often have dinners calls with her partner in public. For those who don't know her, they might be quick to jump to the conclusion that she's just another person who's constantly glued to her phone.
But let's say I was meeting up with a friend … I'd think that it would be common courtesy to put the phone away and have a proper face-to-face catch up. I'm not saying that phone usage is off limits, but it's important to keep it to a minimal. Haha! Well, at least that's what I 'TRY' to do. 
There was this one video I saw a few years back. The video was called "Look Up" and it was uploaded by Gary Turk. It's definitely an eye-opener! (Check out the video below!)
4. What's one food that you cannot live without? What's the one food that you're just not a fan of?
Ughhh, I 'HATE' it when people ask me to narrow down my favourite food to just one. (Ok! Maybe 'hate' is too strong of a word … perhaps the word 'dislike' would be better!)
But … I guess, if I had to choose (gun to my head and all) I would say meat! Haha! Is that acceptable? I don't think I could ever be a vegetarian! That life just ain't for me.
Oh! I'm not a fan of LIQUORICE! I have given it MANY chances but I just don't like the taste. It's bitter, it's minty … ugh! I have no idea why those Enid Blyton books glamourised them so much. I tried it … didn't like it! 
5. Roughly how much do you spend on eating out each week? And what's you go-to comfort food when you're just having a bad day?
Hmm … that depends which month of the year it is.
During Ramadhan, I was eating out a lot – almost 4 to 5 days a week for coverage.
Personally, I can't stand it when I'm constantly eating out. I need home-cooked food. I would say, on average around 2 or 3 meals a week, which would work out to be around $30 and $40? 
Oooohh! My go-to comfort food whenever I'm having a bad day is just a heck lot of junk food! Keropok and chocolate mostly!
I must confess: I'm an emotional eater! So bad day equates stuffing my face with "bad" comfort food (in terms of nutrients and calories).
6. What are your thoughts on making food blogging as a full-time career?
Food blogging as a full-time career? Wow! That'll be awesome! Imagine that! Travelling and blogging/vlogging about food and getting paid for it! 
But let's face it: food blogging isn't considered a conventional job that most parents would want their children to get into.
I honestly think that if one can is able to make it big and become really successful doing it, then I'd say, "Go for it!"
For me, the most rewarding thing about what I do is when people truly enjoy the food that I'd recommended on my feed. It makes me feel validated in a way 🙂 Haha!
It also keeps me motivated to keep doing whatever I'm doing.
I think this stems from my personal interest as well. I enjoy reading about different food when I travel so I try to do the same with food from Brunei for international audiences. 
I also love it when they tell me about hidden gems and places to try. In Brunei, we have such a big eating culture and I dare say almost everyone is a foodie. Live to eat y'all! Everything we do is centred around eating i.e where to eat and what to eat. 
7. Aside from food, what are your other interests? What's a skill that you have that you think would surprise even some of your long-time friends?
I think if you know me personally, you would know that I have quite a variety of interests. I enjoy doing sports and learning different skills. I have always been sporty since I was a child – swimming, netball, boxing and the likes. 
I also am a lover of the arts. Acting is something that I truly find enjoyable. In fact, I've acted in some theatre productions (during my time in university) and short films. I'd definitely be keen to do more projects so do hit me up!
I'm also part of the local improv troupe here in Brunei so if anyone is keen to give improv a try, do let me know! Haha! I couldn't help it. Shameless little plug there 🙂
I'm also interested in making more videos. This is  something that I've dabbled in but I do believe that there's still room for improvement.
Hmm … a skill that would surprise a long-time friend? I am a qualified open water diver! Haha! But I must confess: I have not used the licence ever since qualifying for it, so I think a refresher is definitely much needed! 
I like learning new things because it allows me to experience more in life.
Plus I don't quite like being limited just because I don't know how to do something. This is why I always strive to be a life learner, where I'd equip myself with whatever skills necessary to perform the task at hand.
8. What's something that you regret in life? What's a life lesson that you've learned and would be more than happy to pass on to the next person?
"A minute on the lips, forever on your hips!" Overeating and regretting it after … does that count? Haha! I'm kidding!
Honestly, I'm sure I have had regrets but I truly can't think of any at the moment. I am someone who tries not to regret too much in life. When I make a mistake, I try to learn from it. It's better to consider it as a life lesson. 
That said, one life lesson that I'd be more than happy to share is for people to be less judgemental.
Perhaps it's an age thing! When I was younger, I often worried about what others would think of me. (I still do to an extent but definitely not as much as I used to!)
But over time, I've come to realise that a lot of those fears came from the way I was judging others. And that in turn, made me fear how others would judge me.
Honestly speaking, being less judgemental of others and staying humble will really help in giving you a happier and more peaceful (positive) mindset.
At the end of the day, negativity breeds toxicity and we could all do with more kindness in the world. (However cliche that might sound!) 
9. What are some of the challenges you think the future generation will face? 
Haha! In the greater scale of things, I'd say sustainability. I used to be very much into global issues. I definitely think that dealing with depleted resources is something that the future generation will face, regardless of whichever country they may be from.
But bringing it back home, I honestly think that right now my generation is facing a high rate of youth unemployment. This is probably something that will persist for a few years considering our current economic situation.
The Easy 5'ers:
1. The Neue team was informed that you were not a fan of durians. Now picture this: You're stuck in an elevator filled with lots of 'stinky' (sweet-smelling?) durians. Tell us how'd you react *evil laughter*
Oh dear! I would probably clawww my way out! I'd punch a hole in the ceiling and climb out! Haha! I'm kidding!
Realistically, I'd probably just 'tahan' it.
After all, I do tend to tolerate most things I don't like pretty well so … even though I might not be a big fan of the stinky fruit, I'd like to think that I would be able to handle the smell … (err, I think) 😛
2. You're a well travelled person. What's something funny or weird that you've seen or experienced during your travels?
I have just the story! I was in St Ives Cornwall with my best friend. It was our first time in Cornwall and they are well famous for their Cornish pasty. What's that, you ask? It's basically like a massive meat shortcrust pastry puff (see photo above).
Anyway, we got one to share. We sat on a bench at St Ives Harbour where there were many fat pigeons flapping about.
I took a picture of the Cornish pasty. (Obviously!)
But it's what happened after I snapped the photo that's amusing: A huge pigeon pecked and swooped it away from my hand! It fell to the ground and a group of hungry pigeons immediately attacked and pecked at it. (Picture a zombie apocalypse actually happening! Okay I admit I'm being a little dramatic here!
I was stunned to say the least, but hey! I guess that's one travel experience for the books: getting robbed by a pigeon! xD
My best friend and I did get another Cornish pasty after that thought! Haha!
3. If you could pick three famous people to be a part of your entourage, who would they be?
Firstly, Emma Watson! I have been a long-time fan of hers. Growing up, I looked up to her as a role model. She's a feminist and a philanthropist – one who's smart, talented and beautiful. If that's not the WHOLE package, I don't know what is!
Secondly, I'd have a famous businessman/ entrepreneur. It'll probably be Jack Ma or Bill Gates. After all, I wouldn't mind learning more about business from these greats!
Lastly, I'd have someone funny. After all, having someone who'd be able to easily break the ice (or tension) would be awesome! And that person would be … either Jordan Peele or Kevin Hart!
4. Which character from 'F.R.I.E.N.D.S' do you think best fits your personality? Also can you tell us your thoughts about the whole "we were on a break" drama between Ross and Rachel?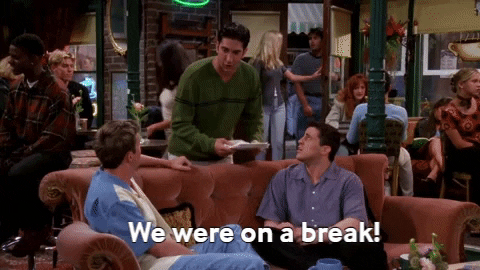 I think I am probably a mix of Monica (minus the OCD and extreme competitiveness) and Chandler. Haha! After all, I am eager, easily enthusiastic and love hosting dinner parties / making food.
Why Chandler, you ask? Well, it's because I tend to joke a lot and find myself funny. (Even if I am probably not, half the time. LOL! See? I did it again!) 
Oh! And that whole "we on a break thing" … come on! Didn't you just love it when you saw Ross all red faced and flustered screaming, "WE WERE ON A BREAK!" Oh! And that one time when he talked to his son, Ben, about that! Haha!
5. If you were a flavour, what would you be? 
I WILL BE MATCHA BECAUSE YOU ARE WHAT YOU EAT. Haha! I just want to be matcha because matcha is one of my favourite food/drink. I'm defo a matcha bae. Haha!
Bonus question: What would you like to say to all our Neue readers? Do you have any words or inspiration or a life story you'd like to share?
I hope all this was entertaining to read! Haha! Thank you for taking the time to read! 
Words of inspiration? Well, I guess I'd suggest people to say 'yes' to something that scares you! Who knows? You might discover something new about yourself. So go ahead! Be a 'Yes man' for a day 😛 *cue Jim Carrey running and hollering 'yes'*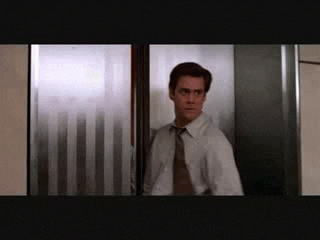 See You In The Next #Neue9to5
Would you like to be featured next? Or would you like to nominate someone you admire to be interviewed?
You can get in touch with Neue by dropping an e-mail here or tagging them on Neue's social media platforms, Facebook or Instagram. (Images: Shutterstock/GIPHY)